Conference venue
The conference will be held in the 19th century Redl Palace that hosts Rényi Institute, in the very center of Budapest. Talks will be held in the main lecture hall, coffee breaks and wine & cheese party on Wednesday will be served in the main hall.
Street address is Reáltanoda u. 13-15.
Computers
Presentations The following softwares are available for presentations:
Adobe Reader 8.0
Microsoft Office 2002
StarOffice 7
It is strongly recommended that you provide in advance a copy of your presentation, which can be loaded onto the computer in the conference room, and tested with the softwares. It is possible, but more complicated to use your own laptop.
Internet access at the Institute
The halls of the 1st and 2nd floor are WIFI equipped.
---
Transportation
Excerpts from Rényi Institute's Contact & Directions page
Airport
The easiest and most comfortable way of coming into town is to take an Airport Minibus, which will pick you up along with a few other passengers and take you to the address you indicate (the name of the hotel usually suffices). You may buy your minibus ticket right off in the baggage reclaim area or in the arrival hall. The Taxis you see when walking out of the airport (Zona Taxi) are quite cheap, they have a fixed price for going to the city from the airport (4800 HUF / 22 EUR) and you can share the bill. The return is even cheaper, 3600 HUF or 16 EUR.
There is also a regular (blue) bus (No 200) leaving roughly every 15 minutes, which for a normal Budapest bus ticket (300 HUF) takes you to the end station of underground line No 3.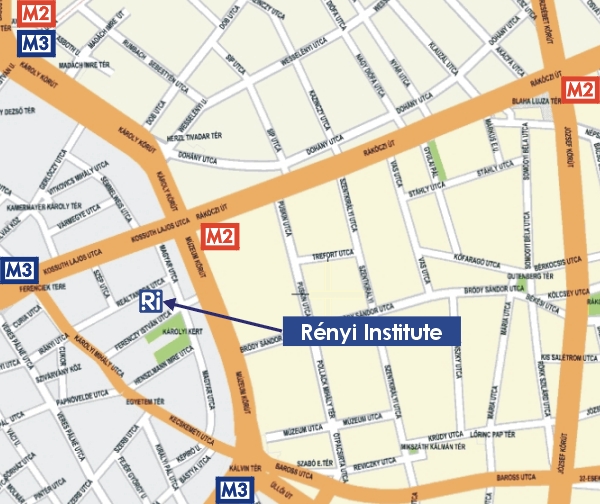 Public transport
In Budapest, there is a great variety of public transport: underground (metro), buses, trams, even trolleys. For more information on schedules or night services see the page of BKV Rt. (Budapest Transport Ltd.)
Taxis
In general, when taking a taxi while in Budapest it is better to take one belonging to a taxi company. Otherwise you should inquire about the fare in advance in order to diminish the risk of an unpleasant surprise. (Also if it's possible, call a taxi by phone instead of flagging one - it's cheaper)
---
Tourist information
Hungary recently joined to the Schengen-zone. This means that there is no passport control coming from other Shengen-zone countries, on the other hand, the passport control is more strict when coming from other countries. This means that you need a SCHENGEN Visa expect if you are coming from one of the following countries:
all EU countries, Andorra, Argentina, Australia, Brazil, Brunei, Bulgaria, Canada, Chile, Costa Rica, Croatia, El Salvador, Honduras, Hong Kong(holders of passports Hong Kong Special Administrative Region), Israel, Japan, Macao(holders of passports Regiao Administrativa Especial de Macau), Malaysia, Mexico, Monaco, New Zealand, Nicaragua, Panama, Paraguay, Romania, South Korea, San Marino, Singapore, United States, Uruguay, The Vatican and Venezuela.
Our currency is Hungarian Forints (HUF). For exchange rates see the page of the Hungarian National Bank.
Hungary has a continental climate. In late August the temperature is usually between +25ºC and +35ºC, rain may fall occasionally, heavy summer storms are also expected. There is a reasonable chance to have a massive hot front with +35ºC or higher. Weather for the next 7 days
Ragweed season starts in the second half of August in Hungary. If you suffer from ragweed-allergy you should prepare to it!
Some Budapest links
Going out