1st Announcement

The Hungarian Academy of Sciences, the Alfréd Rényi Institute of Mathematics, Hungarian Academy of Sciences, the Eötvös Loránd University and the János Bolyai Mathematical Society announce that a conference dedicated to the 100th anniversary of Paul Erdős will be held from Monday, July 1st to Friday, July 5th, 2013, in Budapest, Hungary.

The distinguished main patron of the conference is József Pálinkás, the President of the Hungarian Academy of Sciences.

The topic of the conference includes all basic fields that Paul Erdős contributed to:
Number Theory, Combinatorics (including Combinatorial Algebra, Combinatorial Geometry and Theoretical Computer Science), Analysis (including Approximation Theory and Ergodic Theory), Probability Theory, and Set Theory among others. The main goal of the conference is to explore Paul Erdős' wide ranging contributions to mathematics, and to survey the trends of development originating in his work.
---
Scientific Program
The program consists of plenary lectures and parallel sessions, as well as a poster session. Note that lectures are only by invitation.

Plenary lectures: These will be expository lectures on particular areas related to Paul Erdős' work. We emphasize that these talks will be addressed to a broad mathematical audience. The plenary speakers will be

Parallel sessions:
There will be five parallel sessions in the fields listed above
consisting of invited lectures
. The emphasis will be on the influence of Paul Erdős' work. We had to put a
limit on the number of lectures
, but we gladly offer participants the opportunity to
contribute to the poster session
.
Poster session:
Anyone who wishes to
present
her or his
work in scheduled poster sessions
should submit an
extended abstract
of length at most 6 pages in Pdf form by February 28, 2013.
These abstracts will be refereed and published online
.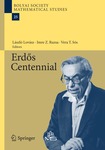 ---
Erdős Centennial Volume
A volume containing the plenary talks and several invited papers of the topics of the conference will be available during the conference.
---
Grants
The registration fee of a limited number of graduate students, postdocs and young researchers (age limit 35) will be (partially) supported. People who wish to receive reduced registration fee should submit an application containing their vita and list of publications in PDF form to the conference's email address. The application deadline is February 28, 2013.
---
For so many of us, working with Paul Erdős was an intensely personal experience. We sincerely believe that this conference will be an opportunity for the whole mathematical community to commemorate the life and work of Paul Erdős. We hope that you will join us in this event.
The Organizing Committee
: László Lovász (Chair), Vera T. Sós (Chair), Attila Sali (Secretary), Miklós Abért, András Hajnal, Gyula O.H. Katona, Miklós Laczkovich, Péter Pál Pálfy, Pál Révész, Imre Z. Ruzsa, András Sárközy, Miklós Simonovits, Lajos Soukup, József Szabados, Endre Szemerédi.
Local Organizing Committee
: Dezső Miklós (Chair), András Recski, Attila Sali, Katalin Vesztergombi, Péter Csorba, Péter Csikvári, Balázs Patkós, Gábor Sárközy.
---
Contact
Mailing address: Reáltanoda u. 13-15, Budapest 1053 Hungary
Fax: +36 1 4838333
Tel: +36 1 4838302
e-mail: erdos100@renyi.hu
---
Sponsors